EFPC provides various courses and educations in the field of fire safety and explosion safety (ATEX), in which knowledge sharing and practical experience are central.
We offer the following courses in the field of fire safety:
The courses are given in the modern training center of EFPC, equipped with the most modern audiovisual means and a cozy lunchroom. If you prefer, the courses can also be provided in-company. The instructors are real experts, they have in addition to theoretical knowledge extensive practical experience in their field. This has the important advantage that the students receive many concrete examples from practice, which makes it easier to recognize certain situations.
Education news
Kiwa FSS and EFPC are joining forces for the Sprinkler Technician course.
Kiwa FSS and EFPC are joining forces and will jointly give the Sprinkler Technician course (Sprinkler Techniek 2) in 2020.
The training will be given twice a year, and there is also the option of taking exams twice a year.
By joining forces, Kiwa FSS and EFPC can provide the course with high frequency and high quality with experienced and expert teachers from both Kiwa FSS and EFPC.
In concrete terms, this means that the sprinkler technician course starts at Zaltbommen in the spring on 4 February 2020 and the autumn course starts in Bilthoven on 24 September 2020. During the course you will receive lessons from teachers from Kiwa FSS as well as from EFPC.
You can still register for this course as before at Kiwa FSS or EFPC.
For 2021, the intention is to continue on the same footing.
New timetable courses 2020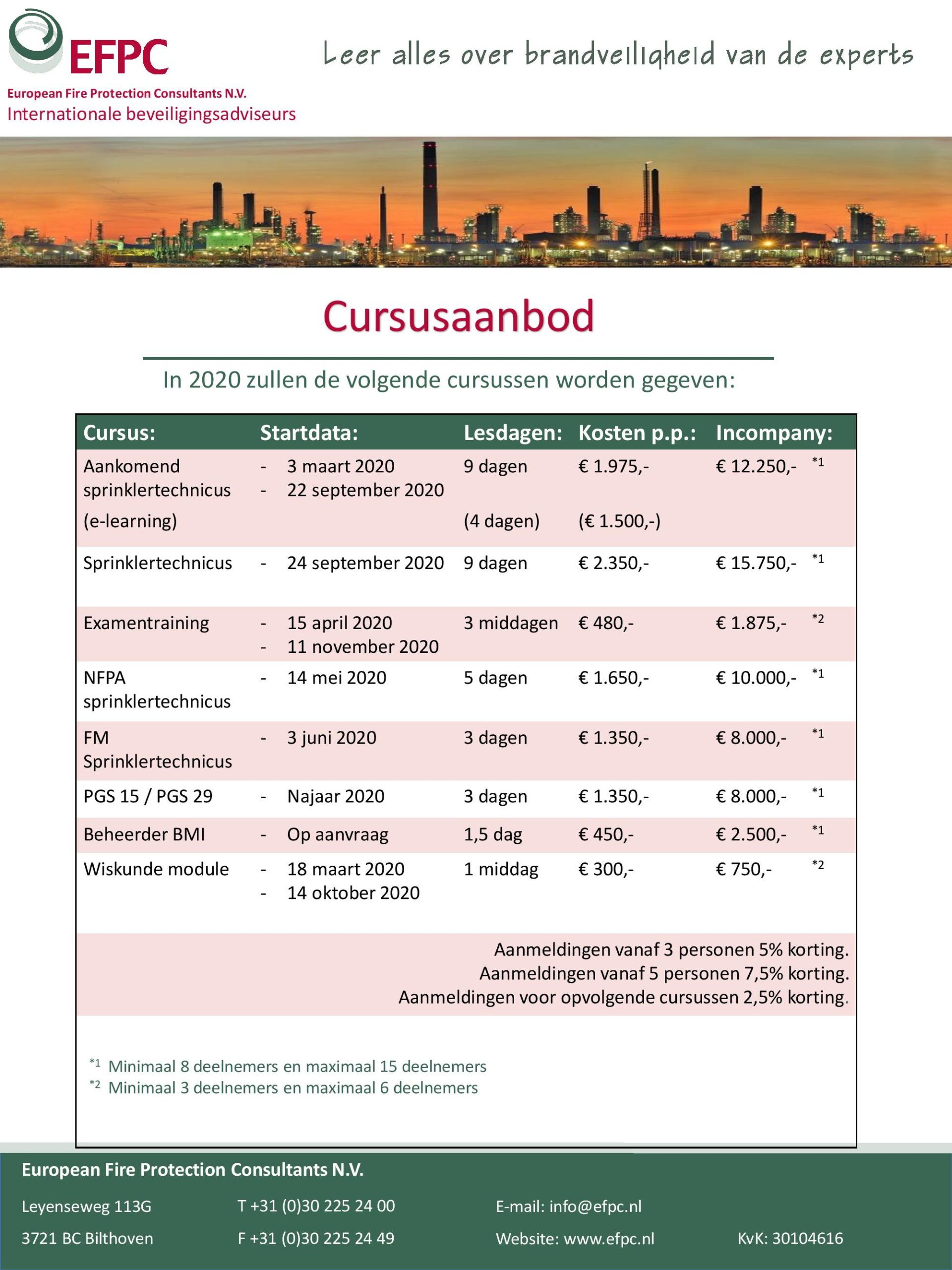 NFPA Sprinklertechnicus education May 2020
Would you like to become a certified specialist in the field of NFPA regulations?
During the 5 day course by EFPC, you will gain more knowledge about the American regulations that are mostly applied in the Netherlands. Knowledge of these regulations offers you possibilities in, for example, storage safety and special hazard classes.
The course is practical and educational and starts on the 14th of May 2020.
Wilt u graag sprinklertechnicus worden? Stuur ons dan een berichtje of meld u hier aan.